What are the Different Bridal Jewellery and
What is the Associated Meaning?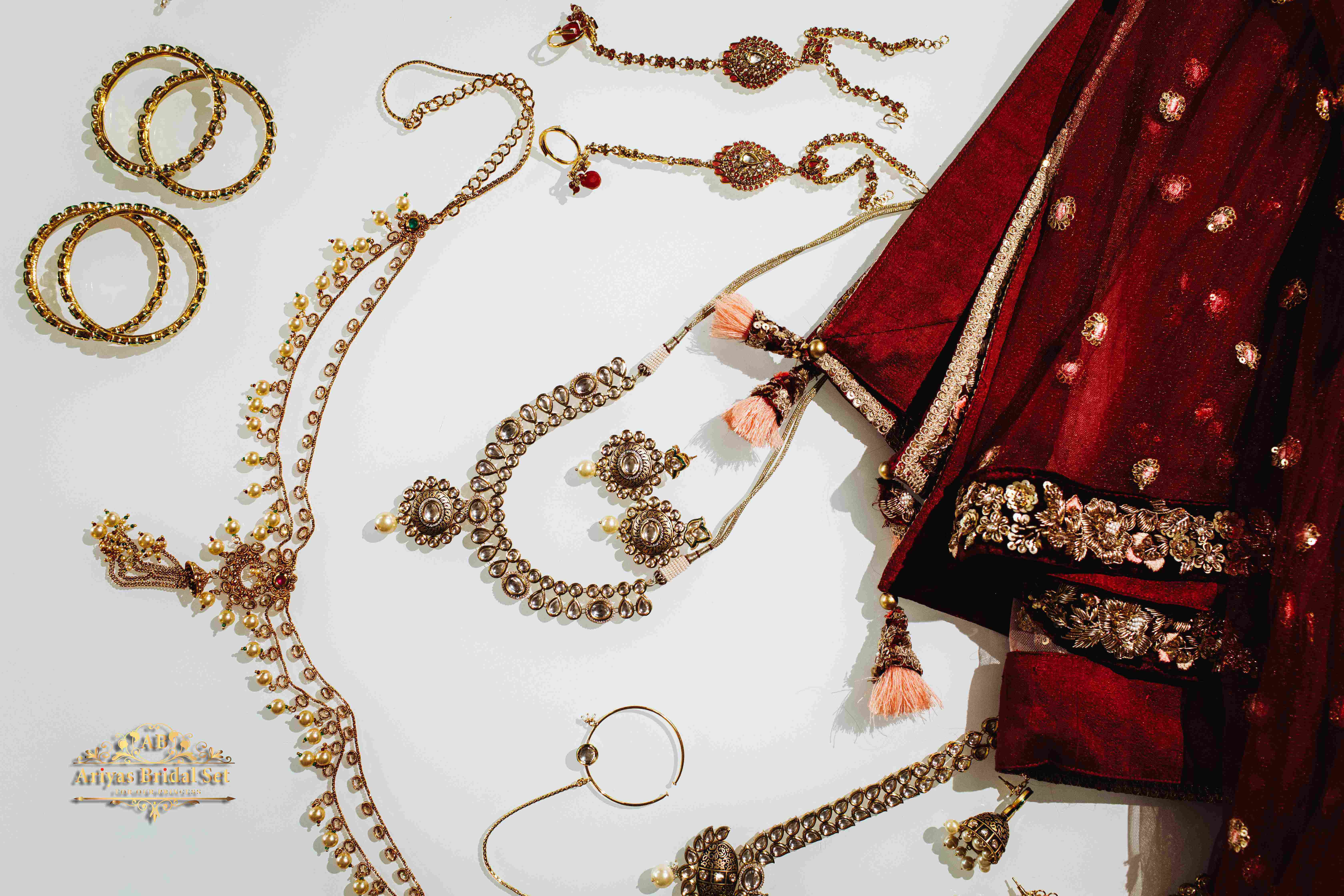 A wedding is a big day for everyone. It is a new journey for both the families and as the wedded pair embark on a new journey of hope and brightness, it is a joyous occasion to celebrate. India has a rich cultural and traditional heritage, and every small ceremony has a significance. Similarly, every piece if bridal jewellery has some significance and meaning.
Ariyas Bridal, the best company offering Temple Jewellery for Rent in Chennai has collected the following points about different bridal jewellery and their significance. Traditionally also, jewellery has been an integral part of Indian society and Indian women have held jewellery close to their heart.
1) Mangalsutra
The thali or mangalsutra is a symbol of commitment to the marriage. It is traditionally given by the groom to the bride. The mangalsutra carries a lot of religious and traditional significance and the material varies between different parts of India. While in some parts, the mangalsutra is made of pure gold, in other parts, it is a necklace with black, white and red beads.
2) Bangles and Bracelets
While traditionally women wear bangles, the modern twist is to wear bracelets in different materials. Nowadays, different materials are used for bangles and bracelets including gold, silver and platinum. A woman's beauty in Indian tradition is considered incomplete without ornamenting it. Further, bangles are available in multiple beautiful designs. Even pregnant women are advised to wear bangles so that the tinkling sound offers comfort to the unborn.
Scientifically, bangles with their moment on the outer skin harmonise circulation levels and channelizing the energy field on the outer skin.
3) Necklace
Necklaces come in different types and designs and Ariyas Bridal has a huge selection for your special occasions. Necklaces with precious stones were more to have some astrological benefit and ward off an evil eye and evil charms, rather than for showing off one's status. However, with the passage of time, necklaces have become a fashion statement also.
Since necklaces are worn on the heart, they are a means to control emotions and strengthen one's love. They also deliver good luck and stone necklaces are a means to bind ourselves with higher and eternal powers.
Overall, necklaces also add to the beauty of the individual and are considered an integral part of the bridal jewellery.
4) Toe Rings
Toe rings are a visible indicator that a women is married. Further, they help to regularize the menstrual cycle. The toe nerves are connected to the uterus and thus, childbirth is made easier and the reproductive organs are also revitalized. Being in contact with the earth, toe rings also help to absorb energy from the earth and keep the woman fresh.
Why Ariyas Bridal?
Ariyas bridal is a leading company offering jewellery for rent in Chennai. Whether you are looking for Kemp Stone Jewellery for Rent in Chennai , bridal set for rent in Chennai or American Diamond Jewellery for Rent in Chennai, we have a solution for every occasion and need.
All our jewellery is sanitized and we offer the best quality products. All designs are refreshing and original and are designed to help you stand out from the crowd.
For more details, contact us!