Reception chokerthat will win everyone's heart in your next big day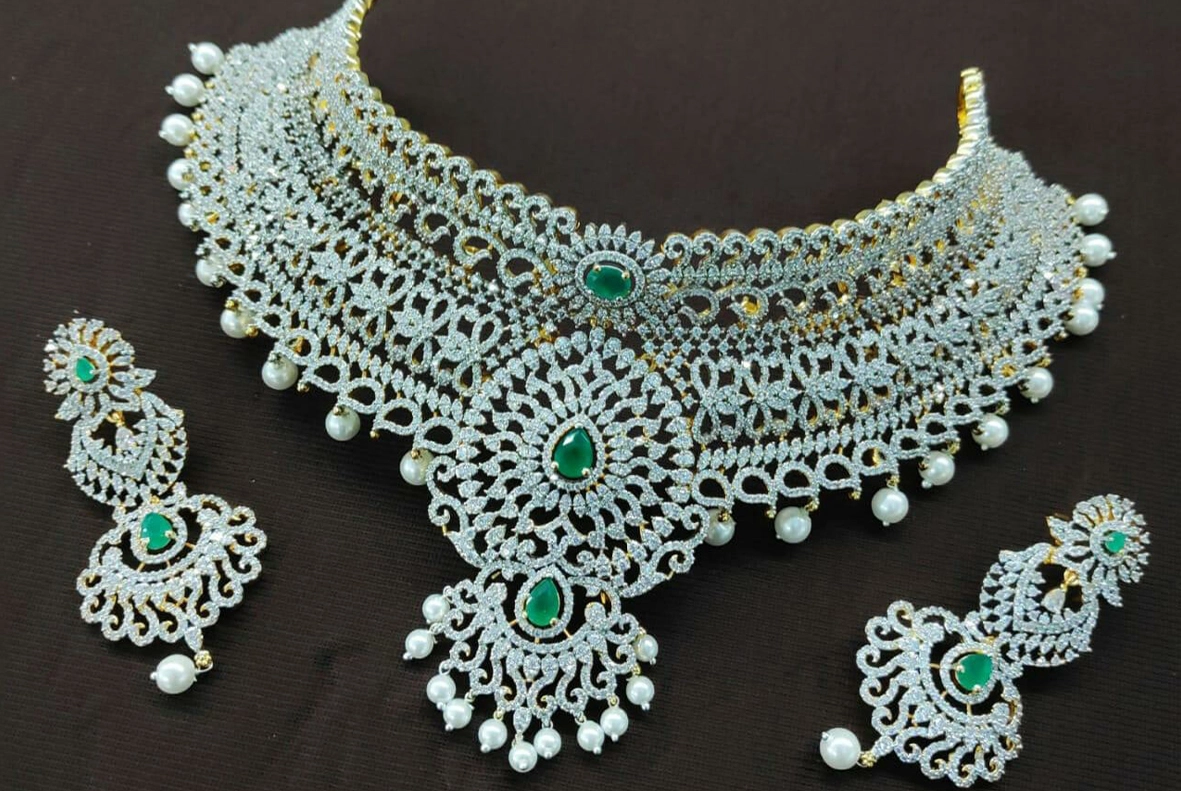 A choker is a close-fitting necklace worn around the neck. Chokers can be made of a variety of materials, including velvet, plastic, beads, latex, leather, metal, such as silver, gold or platinum, etc. They can be adorned in a variety of ways, including with sequins, studs, or a pendant.
Get the vogue look by wearing the exciting reception chokers design at Ariya's bridal sets in Chennai.
Why to choose choker for your Reception?
Conveniently, receptions are meant to be grand and extravagant. So, we see most of the brides go for heavy lehengas with shiny stones and mesmerizing colours, then what other jewellery will add the canon than the chokers.
Ariyas bridal sets in Chennai gives the awe-inspiring reception chokers to make all the women look and feel beautiful in their special occasions. They are one of the best in renting out bridal sets, especially reception chokers.
A choker necklace will compliment you even more if you have a longer or wide neck. It will fill up space and jazz up your whole look.
Its all comes down to how you pair your choker, here are few tips to and tricks to go by
With the ongoing wedding season, all of us are in search of style inspiration to look different from the crowd. From the heavy jadau chokers to light tassel or gota chokers, Indian brides are embracing this trend everywhere.
Purple enamelled choker set with a Sharara saree, this will definitely will make people droolat this useful bridesmaid look!! You can put on the choker necklace with a cutting-edge saree to appear unique from the crowd at your buddy or sister's wedding.
Emerald choker necklace can be paired with a gold kanjivaram saree and an undeniable off-white spherical neck full-sleeved blouse. The necessary tip right here is to pair a heavier choker necklace with a simple shirt and it needs to be styled with any embroidery if it is the excessive neck.
Diamond choker necklace with a sequinned seafoam saree and will leave watchers spellbound. You can additionally rock this look to an upcoming engagement or reception party. This is likely will be our all-time favourite look. You can also pair your choker necklace with an off-shoulder crop pinnacle and banarasi lehenga.
These were some of the tips for you to rock in your next big day or in any event. But what is more exciting is you can get all these looks without having to spend a lot. You can rent out your desired chokers at Ariyas bridal sets in Chennai and Get the vogue look by wearing the exciting reception chokers design. The top reception choker designs are available at the Ariya's bridal sets in Anna Nagar, Chennai.
These eminent choker collections are available at the best reception choker providers, Ariya's bridal set in Chennai. We give you these smashing designs and will make youenjoy whenever you wear this.